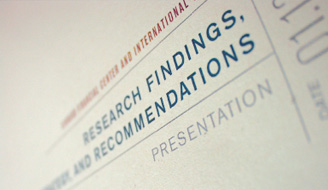 Overview
The Center for Public Policy Alternatives (CPPA) is an independent, non-partisan public policy think-tank committed to rigorous research through which public policies and processes are examined, supported and best practices disseminated. The CPPA aims to help sub-Saharan governments and their agencies realize the goal of rapid development and a prosperous future for their citizens.
Mission
To create a demand driven research organization dedicated to addressing issues affecting Nigeria in particular and sub-Saharan Africa in general.
Vision
To be quoted, referenced or engaged in 80% of all policy issues by 2014.
Objectives
CPPA aims to promote proactive research that is not limited to current affairs across a broad range of subjects and is independent of immediate or obvious demand with the hopeof:
Strengthening the decision-making capacity of government by transmitting policy-relevant information derived from high quality research and analysis to policymakers.
Creating an informed citizenry through public education about key issues and choices.
Facilitating the dialogue between policymakers and their constituencies.
Strengthening civil society by providing a forum for discussion and analysis.
Identifying, articulating and evaluating current or emerging issues and provide alternative solutions.
Stimulating public debate by adding high-quality research and analysis to the voice of the people in order to bring about policy change.
Serving as an informed and independent voice in policy debates.
Providing a constructive forum for the exchange of ideas and information between key stakeholders in the policy formulation process.
Ensuring continuity of programs even after departure of development partners or program funders.
Our Team
Board of Trustees

Folarin Gbadebo-Smith:

Dr. Gbadebo-Smith is a graduate in Public Policy of the Harvard University Kennedy School of Government. He was attached to the Ash Institute for Innovation in Government at Harvard University as a Fellow in 2008. He has conducted research on the health, public sector and Food and Agribusiness. He has worked as an independent consultant with DFID, Lagos state and other international organisations and has conducted independent research on Performance Contracting for the public sector and Food and Agribusiness. His areas of policy emphasis include:

Advocacy for innovation in government
Performance Measurement
Food and Agribusiness policy
Pubic private partnerships
Health Policy

Soji Apampa:

Mr Apampa is currently CEO of RTA Intelligence Ltd, a business research, intelligence and ethical due Diligence Company. Prior to that he was Managing Director of SAP Nigeria Ltd, and Regional Manager (West Africa), for SAP where he worked for 8 years since early 1999. He is also Director of Centre for Business Integrity, Lagos where he has acted as resource to the World Bank Institute on giving Civil Society organizations' insight into the role service delivery and service delivery surveys (especially at the local government level) can play in the Poverty Reduction Strategy Papers (PRSP) process. He has also actively participated in several DFID projects and conducted political economy studies in a few states in Nigeria. His areas of interest are:

Political Economy
Anti-corruption

Femi Oyetinji:

Mr Otetunji is currently Managing Director of Alexander Forbes, the leading actuaries firm based in Nigeria. He has a First Class Honors degree from University of Manchester, a Masters from Imperial College, London and a PHD from University of Manchester. He is a Fellow of the Institute of Actuaries. His areas of policy interest are:

Statistics and Data Management
Risk Management

Oshuwa Gbadebo-Smith:

Mrs. Gbadebo-Smith is a trained lawyer by profession as an alumnus of the London School of Economics & Political Science (LSE). She practiced law for several years and was company secretary and legal adviser for a large Nigerian bank before leaving to pursue and MPA in Harvard University, Kennedy School of Government. She is presently Managing Consultant for Harriet Davidson Ltd, a public policy consulting firm and worked as a consultant to many organisations including Ford Foundation, DFID, EU, The Federal Government and several state governments both in Nigeria other African countries. Her areas of policy emphasis include:

Law and Private Sector Development
Governance
Monitoring Evaluation

Management

Folarin Gbadebo-Smith - MD |CEO

(See CV above).

Gary Schwarz - Director (Research):

Gary is a Fellow at Harvard University, where he does research about China and works as a teaching fellow in a Strategic Management course. He also facilitates sessions at Harvard Executive Education programs and was a panelist at Harvard conferences, such as in the Harvard China Review Conference. Previously, he worked in the consulting department of Deloitte, holding various positions, ultimately as the Serviceline Leader Performance Management. In this capacity he advised numerous companies on strategy and organizational issues. He holds degrees from Harvard University, the University of Chicago, and Northwestern University. His areas of policy emphasis include:

Governance
Innovation and Private Sector Development
Strategic Management for Public Purposes

Nneka Enwonwu:

Dr. Enwonwu is a trained Health Science professional with a Masters degree (with Distinction) in International Business from Aston Business School, UK. She worked in several capacities in the health sector before pursuing a career in consulting where she consulted for both private and public institutions. Her areas of interest include:

Community Development and Poverty Alleviation
Private Sector Development
Health policy
Public Sector Capacity Building

Research Associates

Ijeoma Onwuka | B.Sc Business Administration
Ikechukwu Ejekwumadu | B.Sc, MA Sociology
Makuachukwu Ojide | B.Sc, M.Sc Statistics and Economics
Josiah Aramide | BSc, MSc Physics
Queen Esther Oluwatimiro | B.Sc Economics
Akinfeyinwa Akinwunmi | B.Tech Agricultural Economics and Extension
Copyright 2018
CPPA
+ All Rights Reserved.